Read More
LATEST BLOG POST
What is first round pop?
Learn why it exists and how to mitigate a louder first shot.
Read the Details
PURCHASING MADE EASY
SIMPLE NEW PROCEDURES
1. Fingerprints near you
2. Photo submitted via app
3. Sign electronically
View the Deal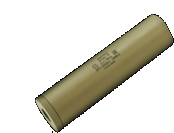 DEAL
OF THE MONTH
20% OFF GEMTECH GMT-300
Achieve Suppression for Less
Why purchase from Capitol Armory?
Bottom line: Price, service, selection, and expert knowledge to support our customers.
We offer top notch customer service and FAST form 3/4 processing. We are experts in managing NFA form filing.
Our online system features:

Simple, one page checkout that is safe and secure.

BATFE fees are automatically applied to your cart and we never add additional fees to process the transfer.

Secure document storage to submit your trust.

We take the complexity out of the NFA process and make it simple and hassle free, and we maintain communication throughout the entire process.
Browse our products and you'll notice we carry most major NFA brands, including AAC, Daniel Defense, Dead Air, Gemtech, Griffin Armament, Liberty Suppressors, Primary Weapons Systems, Seekins Precision, Rugged, SureFire, Sig Sauer, SilencerCo, and Thunder Beast.
Learn more about how we streamline suppressor ownership.
About Capitol Armory
Capitol Armory is a central Texas Federal Firearms Licensee (FFL) specializing in NFA / Class 3 weapons, specifically suppressors. We strive to offer excellent customer service and the best products for enthusiasts, law enforcement, and military personnel. With a blend of technology and easy to use website, we streamline the NFA / Class 3 purchase for the end consumer. Capitol Armory has been serving customers since 2009 and is based on the edge of Austin in Cedar Park, Texas.