CONTINUE
to start shopping,
select your

caliber
Read the Details
PURCHASING IS AS
EASY AS 1-2-3
1. Select your suppressor
2. Place your order
3. Submit forms electronically
View the Deal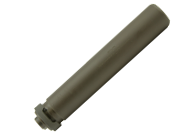 DEAL
OF THE MONTH
SilencerCo
Specwar 556
Priced so low they won't last long!
Achieve Suppression for Less
Why purchase from Capitol Armory?
Isn't everyone looking for a great deal? We keep overhead low so we can pass the savings on to you, the customer. We focus on customer service and all things NFA / Class 3.
Browse our catalog and you'll notice we carry most major brands, including AAC, Gemtech, SureFire, SilencerCo, SWR, Thunder Beast, Suppressed Armament Systems (SAS), and YHM. More than likely we have what you're looking for in stock, but if we don't have it on our website, just ask us.
Purchase what you want online with our easy ordering system. The process is simple and hassle free, and we maintain communication throughout the entire transaction. If applicable, we file BATFE paperwork electronically to minimize the transfer timeframe.
Learn more about how we streamline suppressor ownership.
About Capitol Armory
Capitol Armory is a central Texas Federal Firearms Licensee (FFL) specializing in NFA / Class 3 weapons, specifically suppressors. We strive to offer excellent customer service and the best products for enthusiasts, law enforcement, and military personnel. With a blend of technology and easy to use website, we streamline the NFA / Class 3 purchase for the end consumer. Capitol Armory has been serving customers since 2009 and is based in Cedar Park, Texas.